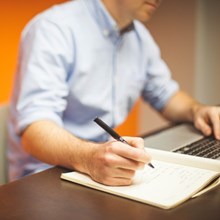 There's a quiet revolution taking place around the world right now.
It's not political. There are no trees or chains involved, and joining the protest doesn't require any form of chanting.
The enemy is the structured, office-bound, '9-5' work environment, as millions of professionals across the planet discover the benefits of a movement called 'coworking'.
Coworking refers to working independently within a shared space, and there are a multitude of reasons businesses and freelancers are increasingly embracing the trend.
For businesses, shared coworking spaces offer a less expensive and more flexible alternative to a traditional office lease. In our current business climate where reducing costs is paramount, eschewing an expensive, fixed-term office rental contract can mean significant savings.
For freelancers and sole traders, coworking offers a work space free from the inevitable distractions of home or a coffee shop. It also offers this group some of the more desirable aspects of a serviced office – reliable WiFi, printers, meeting rooms and a fixed address.
In Western Australia, where the sheer size of the state means business travel is often unavoidable, flexible shared offices give big businesses a solution to the need for regional outposts or temporary hot-desks.
Our Bizspace co-founder, Andre Veder, says shared offices are the perfect solution for every business.
"The biggest hurdle for a lot of businesses is overheads – the cost of purchasing and maintaining equipment and leasing a commercial property can be crippling" says Andre.
"One of the reasons we started Bizspace was to level the playing field – to give big business with interests in Broome a work space to rival anything in the Perth CBD, and to give local businesses and freelancers a flexible and affordable base."
An added-bonus of coworking? When people from varied backgrounds work from the same office the result is, more often than not, a networking and collaboration opportunity like no other.
"Bizspace is used by members of the tourism, social action, government and development sectors" says Andre.
"We hope that by providing a quality shared workspace and networking opportunities, we will see genuine benefits for local businesses, and by extension, the local community."
Flexibility, affordability and networking - whether you're based in London, New York, Perth or Broome, the benefits of the coworking movement are undeniable.